Irish Mass
Gaelic Mass for choir, strings ensemble and traditional instruments
Movements/Parts
1- A Thiarna (Kyrie)
2- Gloir (Gloria)
3- Creidim (Credo)
4- Is Naofa (Sanctus)
5- Is Beannaithe (Benedictus)
6- A Uain Dé (Agnus Dei)
Duration
30'
Instrumentation
SATB Choir
SATB Soloists
String orchestra (Violins I & II, Viola, Cello, Double Bass)
Traditionnal instruments (Uilleann pipes, tin/low whistle, fiddle, celtic harp)
License/SACEM code

SACEM ISWC T-702.003.800.2
Description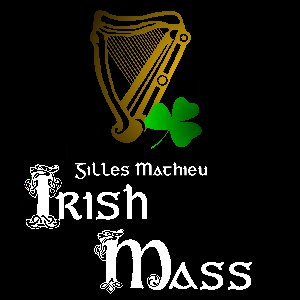 In this piece written between 2005 and 2006, the classical musical form of the Catholic Mass meets a style inspired by traditional irish music, using a mixed SATB choir with classical and traditional instruments such as Uilleann Pipes, Whistles and Fiddle.
Musical structure
The musical form called "Mass" generally corresponds to liturgical music and songs of the catholic mass at large. In classical music, these prayers and invocations translated to music are generally split in five parts:
Kyrie
Gloria
Credo
Sanctus
Agnus Dei
Sometimes -as this is the case here- the Sanctus can be continued into a Benedictus. The two movements are then often associated and enchained. A part of the liturgical text is even common to both.
These sequential movements follow the canon of the latin mass, and form together what is called the Ordinary of the Mass, whereof the text is fixed
Particularity of this mass is to use an Irish Gaelic version of the text instead of the usual latin version.
As of 2017, two new version of Irish Mass have been produced, using the Latin and English version of the Ordinary of the Mass.
A Thiarna (Kyrie)
A Thiarna déan trócaire. A Chríost déan trócaire.
(Lord, have mercy. Christ, have mercy)
After an introductive, quite ambience that sets the stage, the Kyrie continues to a rythmic ballad
Gloír (Gloria)
Glóir do Dhia sna harda. Agus ar talamh síocháin do lucht a pháirte.
(Glory to God in the highest, And on earth peace to people of good will.)
The bombastic beginning soon gives way to a mysterious and tortured atmosphere, auspicious to a dance of leprechauns and fairies... which unconsciously reminds us that Irish catholic culture keeps many traces of its own mythology.
Creidim (Credo)
Creidim in aon Dia amháin, an tAithair uilechumh-achtach a rinne neamh agus talamh agus an uile ní sofheicthe agus dofheicthe
(I believe in one God, The Father Almighty, Maker of heaven and earth, and of all things visible and invisible.)
Archetypal meditation song, the Credo takes its inspiration from old celtic monodies, that one easily imagines being sung in the middle of a desert heath... The howling winds and the sound of waves crashing on the rocks echo back to this ancestral profession of faith.
Is Naofa (Sanctus)
Is naofa, naofa, naofa thú, a Thiarna Dia na slua. Tá neamh agus talamh lán de do ghlóir.
(Holy, Holy, Holy Lord God of Hosts. Heaven and earth are filled with your glory.)
This celebration and joy song quickly continues into a lively jig, inspired by a traditional air.
Is Beannaithe (Benedictus)
Is beannaithe an té atá ag teacht in ainm an Tiarna.
(Blessed is He Who comes in the Name of the Lord.)
Beyond its cinematic character, this melody follows the line of many celtic ballads, and ends with the jig already heard at the end of the Sanctus.
A Uain Dé (Agnus Dei)
A Uain Dé, a thógann peacaí an domhain, déan trócaire orainn; A Uain Dé, a thógann peacaí an domhain, tabhair dúinn síocháin.
(Lamb of God, Who take away the sins of the world, have mercy on us. Lamb of God, Who take away the sins of the world, grant us peace.)
After an ethereal introduction, a deep and meditative chant starts, whose form will be familiar to gaelic music listeners... and everything finishes in the quite, muffled atmosphere of the beginning.
Texts, scores and other resources
Texts and complete scores are available on the "scores" page
A recording of one of Irish Mass' first performances (February 2007) is available below (and also from the MP3 page.) A few videos from different concerts are also available on the videos page.
Recordings/MP3: