La Chanson de Roland
La Chanson de Roland - Suite for choir and orchestra
Movements/Parts
1 – Prologue – Le Vent qui venait des Montagnes
2 – La cité sur la colline
3 – L'Assemblée de Cordres
4 – La Trahison
5 – le Départ de Charles
6 – Présages
7 – L'Echo des Montagnes
8 – La mort de Roland
9 – Retour à Roncevaux
10 – Epilogue
Duration
45'
Instrumentation
Choeur SATB
Soli SATB
Orchestre à cordes
Cors d'harmonie
Percussions
License/SACEM code

SACEM ISWC T-702.322.366.9
Description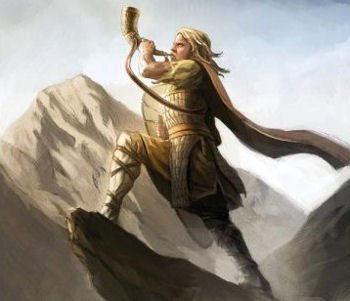 The piece, written between 2008 and 2009, tells a medieval story well known in France: the story of Roland, Charlemagne's nephew. The plot is based on "the Song of Roland", a manuscript from the 11th Century now kept in Oxford.
1 – Prologue – Le Vent qui venait des Montagnes (The Wind that came from the Mountains)
The wind that comes from the mountains carries an old story. There, in deep valleys, many men died because of their pride…
Here starts the old text.
2 – La cité sur la colline (The city on the Hill)
Charles, Frank Emperor, finishes his military campaign in Spain, but didn't succeed in conquering Sarragossa.
The King of Sarragossa, Marsile, has led a council to decide how to behave with Charles. He has decided to fake surrender in order to secure the Frankish withdrawal from his lands. He thinks that if Charles leaves Spain, he won't come back even if Marsile goes back on his promise.
Marsile sends messengers to Charles.
3 – L'Assemblée de Cordres (Cordres' Assembly)
Frankish army has established its camp in the city of Cordres, between Sarragossa and the Pyrenees. Marsile's ambassadors arrive and deliver their king's message to Charles, who hesitates: should he trust Marsile? He convokes a council to debate about this.
Within the Council, Count Roland, Charles' nephew, steps in. For him, it would be madness to trust Marsile. Ganelon, Roland's stepfather, disagrees. Everyone is tired with war, and accept Marsile's proposal is a good mean to finish the campaign without having to fight again. Charles finally decides to accept Marsile's offer on the strict condition that he becomes his liege, and asks for somebody to deliver this message to the Sarragossian King. Roland names his stepfather: "If he trusts Marsile, he can go there". Ganelon accepts, but curses Roland for having designated him, since he knows that the chances of success (and survival) of this mission are very small.
4 – La Trahison (The betrayal)
Ganelon arrives in Sarragossa, where he meets Marsile and his assembly. Charles' conditions are unacceptable for Marsile. Ganelon, who wants to save his life as much as his cause, proposes him a deal. According to him, Roland is the heart of the problem: if he is killed, Charles' army loses its value. If Marsile pretends to accept the offer, Charles will leave with the greatest part of his army, leaving only a few men behind. Ganelon will ensure that Roland commands these few men.
Together, Marsile and Ganelon plan an attack to kill Roland.
Ganelon will have his revenge, and Marsile will deprive Charles of his best captain.
5 – le Départ de Charles (Charles' departure)
Ganelon has caught up with the Frankish army and told Charles that Marsile accepts to become his liege. He persuades him to leave Roland behind with the rearguard. The great army leaves with a strange fear for Roland who is left behind.
6 – Présages (Omens)
From the top of a hill, Roland and his friend Olivier observe Marsile's army arriving. Olivier ask Roland to warn Charles, so that the great army comes back to fight. Roland refuses: his mission is to protect Charles; he won't disgrace himself begging for help.
He joins up with his men, warns them about the forthcoming battle, and prepares to face.
7 – L'Echo des Montagnes (the echo of the mountains)
Marsile's army meets the French rearguard at Roncevaux mountain pass. The battle starts. The French fight off the first attacks, but suffer great losses.
As they are only 60 remaining, Roland finally decides to call Charles for help. He blows his horn with great force. Below in the valley, Charles hears him, and despite of Ganelon's attempt to dissuade him, Charles answers the call and hurries back.
French rear guard is decimated. Roland mortally hurts Marsile, but the French are only 3 being still alive. When they hear Charles' army approaching, the Sarragossians flee away.
8 – La mort de Roland (The Death of Roland)
Roland remains alone on the battle field, being mortally wounded. He climbs to the top of a hill looking south into Spain. He unsuccessfully tries three times to break his sword on a rock, so that his enemies cannot take it. Roland dies under a tree, facing south holding his sword Durendal and his olifant.
9 – Retour à Roncevaux (Return to Roncevaux)
Charlemagne meanwhile has been riding back from the valley with all possible speed and has arrested Ganelon for his treachery. When he arrives on the battlefield in Roncevaux, he faints with grief. Charlemagne mourns and then sets out to overtake the fleeing Sarragossian army.
10 – Epilogue
The piece ends on these verses:
My friend Roland, I will return to France
Strangers will come from distant kingdoms
And will ask me: «Where is your captain? »
I will answer them that he died in Spain

Large is the plain, large is the country
Helmets shine with gold and gems
Do you see those twinkling shields, those sparkling armours?
These spears and these flags hanging from them?
The trumpets sound and their voice is clear
The sound of the Oliphant goes far and high
Texts, scores and other resources
All texts and scores are available on the scores page
The recording of one of the piece's first performances is available below and on the MP3 page